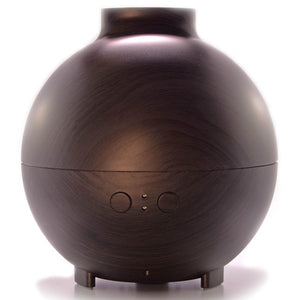 Sphiera Ebony Diffuser FINAL SALE
---
The Sphiera has been designed to hydrate the air while diffusing your favourite essential oils. The unit uses cool vapour technology so the water and the oil are not heated, preserving the quality of the oil. One of the top essential oil diffusers on the market
Option

 

button for two-speed setting 
Option

 

button for LED lights 
Water Capacity - 600ml 
Operating time between fill-ups: approx 10 hours on high setting / 15 hours on low setting. 
Built-in safety shut off - for low water levels. 
Height 21cm | width 20cm 
120v / 240v - power adaptor cUL approved - Operates on 18V 
The Sphiera operates on water with a basic mineral content..such as tap water.  If the water is purified (ie. reverse osmosis water systems etc.) ensure you add a teaspoon of salt into the water on fill-up. Do not use distilled water.
FINAL SALE - INVENTORY CLEARANCE - HUGE SAVINGS
Usual Price $85.99     NOW ONLY $39.99 CLEARANCE - WHILE STOCKS LAST
---
---
Sphiera Ebony
I really like this Sphiera Ebony Diffuser it works great so far and puts the scent out really good. That's why I oreded 2 more of them and more sents just love the angle wings sent oil .It's the best.
Hello Karen Thankyou for your wonderful review Very much appreciated Regards Lorraine
---
We Also Recommend
---