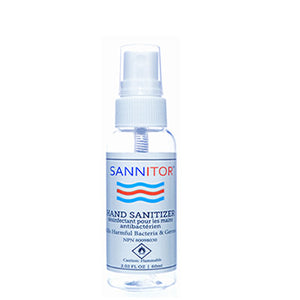 SANNITOR Hand Sanitizer 60ml
---
SAVE - Now available in multi pk
Alcohol Based - Spray & Go Hand Sanitizer. Kills Germs & Bacteria

Perfect for emergency hand cleaning without the need for water
Ingredients: Ethyl Alcohol 70%, Aqua, Lavender Essential Oil, Peppermint Essential Oil, Vegetable Glycerin.
Directions: Spray into hands when needed. Rub hands to ensure complete coverage.

With added glycerin to protect hands from the drying effect of alcohol.
Available Size: 1 litre - 120ml - 60ml - + FAMILY PACK ( Save 20% )
We use 70% v/v Ethyl Alcohol. This is the optimum Alcohol level, please see our Blog :  Why 70% is better than 90%
---
---
SANNITOR Hand Sanitizer 60ml
Hello Tracy Thankyou for our Sanitizer review its certainly as popular as ever Regards Team Finesse
Fantastic hand cleanser
The first disinfectant that doesnt burn my hands..LOVE it!!!
Thankyou Jacqueline, We are very proud of this hand sanitizer made to do its job and be kind to hands Team Finesse
Sanitizer
I order 10 of this.I love the smell of this sanitizer.I only thing i dont like is the label because when you spray your hands and you touch the label its became sticky.you need to dry your one hand first before you can spray your other hand.
---
We Also Recommend
---