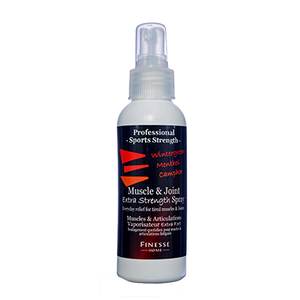 Muscle + Joint Spray
---
Muscle & Joint Extra Strength Spray developed specifically to help ease sore muscles and help reduce joint pain, lightly spray onto joints and muscles.
Made with pure essential oils of Wintergreen, Camphor with added Menthol. Produces a deep heat sensation to help ease pain and aide relief to aching muscles.
 New larger size 175ml
---
---
Super great!
My husband had such severe muscle spasms in his lower back and hip, the pain was almost unbearable!
Tried. muscle relaxants and different muscle creams and ointments - nothing worked.
Our daughter had a bottle of Muscle and Joint Spray and suggested we try it.
The relief he had was immediate! .
For the first time in three weeks, he was able to get a good nights sleep.
This spray is awesome! Our daughter just ordered some more for herself and for us!
Thank you so much for such a great product!
Hello Lillian Thankyou for your wonderful review, one of our top favs here is the muscle joint range, so we are super pleased you love it as much as we do
Team Finesse
---
We Also Recommend
---