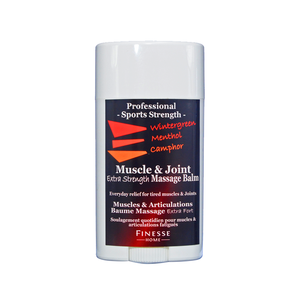 Muscle + Joint Healing Balm
---
Muscle & Joint Extra Strength Massage Balm developed specifically to help ease sore muscles and help reduce joint pain, lightly apply onto joints and muscles.
Made with pure essential oils of Wintergreen, Camphor with added Menthol blended in Beeswax, quickly produces a deep heat sensation to help ease pain and aide relief to aching muscles.
---
---
EXCELLENT BALM
Family and friends love this Balm because it works well. We also share it with Family overseas.
Hi Alex
Thankyou for this great review of our muscle & joint balm, it certainly helps the staff here also,
Pleased to hear family and friends of yours also use this great balm . Much appreciated Thankyou Team Finesse
I have not received my order 🤦‍♀️
Always have had great delivery in the past!
Hello Susan I have tracked your package and it seems that Ontario has extreme delays currently which is out of our hands
Please read information below regarding your order, you can follow updates online
Expected delivery
Item delayed — stay tuned for updates
Updated: Today at 10:04 am
Info
Delays can happen for many reasons. Your item is still on the way. We'll display a new date as soon as we can. To receive tracking updates for this package, sign up for email notifications or text notifications.
Origin
Sechelt, BC
In transit
July 17
Received by Canada Post
July 4
Expected delivery
Item delayed — stay tuned for updates
Info
A new way to get notified
Get delivery updates texted directly to you!
AMAZING BALM
I found this Balm at the One of a Kind Show about 5 yrs ago and I love the stuff! I have given it to my Mom for her arthritis in her knees, she uses it every day! I tell all my friends about it too!
Hello Judith Thankyou for your 5 star review Muscle and Joint Balm is now one of our all time top selling products. We are thrilled that you are still a fan of it
Love it!!
Absolutely love the Muscle & Massage Balm! We can't find it locally anymore so have come to the source to order more for our family and extended family!!
This stuff is amazing
As a very longtime landscape contractor I have plenty of aches and pains. I'm generally pretty skeptical about products such as these. However after trying the balm once on my sore back and shoulders I was hooked. I've now pretty much finished my second stick.
Plus it's great to not have to use that other chemical laden gel product from Costco anymore. As an added bonus I love the smell of wintergreen, a great native Canadian plant.
Thanks!!!!!
Hello Mark Thankyou for your wonderful review, Our Muscle & Joint balm is also a hit here at Finesse by all the staff who tried and tested it fully before it went to market
One of our all time favorites , we shall look out for your next order and add a complimentary item for you Thankyou once again we love to hear from our customers that were doing a good job so much appreciated Team Finesse
---
We Also Recommend
---