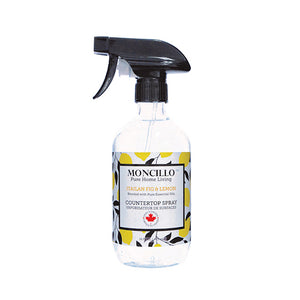 MONCILLO Fig & Italian Lemon Countertop Spray
---
Finesse Pure Home Living
Moncillo Countertop Spray
Fig & Italian Lemon
473ml

Moncillo's Natural Clean
Created with pure essential oils and carefully selected biodegradable cleaning agents found in coconut, vegetable extracts and glycerine. Powerfully cuts through grease and kitchen grime while caring for the environment.
Effective cleaning for any sealed surfaces, including engineered stone, granite, marble, quartz, porcelain, sealed wood, tile, laminate.

Fig & Italian Lemon is a wonderful light citrus Mediterranean aroma.

VEGAN FRIENDLY
NEVER TESTED ON ANIMALS
RECYCLABLE PACKAGING
Natural Biodegradable
Refillable Products
Sustainably Sourced
Free from:
Animal Derived Ingredients,
Chlorine, Phthalates, Phosphates,
Petroleum Distillates & Parabens.
---
---
Excellent
I could not be happier with these products. So happy I found them online as they are no longer available in Medicine Hat!
Hi Michelle So pleased to hear that you have used our online site to purchase your Moncillo products, Thankyou for the great review Free ship on orders over $75 Team Finesse
MONCILLO Fig & Italian Lemon Countertop Spray
---
We Also Recommend
---