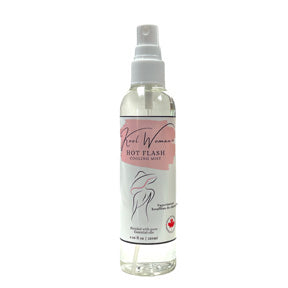 Hot Flash Cooling Mist
---
The Kool Woman Collection uses a natural blend of pure essential oils designed to help give relief to Hot Flashes and night sweats. Research has suggested that the presence of volatile oil in Sage is largely responsible for most of its therapeutic properties, especially its antiseptic, astringent and relaxing actions. Sage has a strong antihydrotic action and has been a traditional treatment for night sweats. The addition of peppermint and menthol gives a cooling sensation to the skin and helps give a much-welcomed relief to Hot Flashes.
Designed to help give relief to hot flashes by providing a cooling sensation.
Apply 2 to 3 sprays to the back of the neck when a hot flash occurs.
Key Ingredients: Aqua, Pure Grain Alcohol, Menthol, Sage Essential Oil, Peppermint Essential Oil
Available in 115ml, 230ml
---
---
Hot flash cooling mist
I do you use this most often. It does give you a cooling sensation on the back of your neck. I find it gives some relief, depending on how bad the hot flash is. I also believe that it will depend on our own body chemistry on how well it will work for you but it's definitely worth I try.
Hello Alayna Thankyou for your wonderful review, our Kool Woman menthol spray is a huge hit with the girls here also Regards Team Finesse
Great product!!!
Love this spray! Works right away and smells great! I have been telling everyone about it! I also have the cooling towel and it's great as well. Definitely won't be disappointed if you buy this.
Thanks for this magical spray.
Lovin the Mist
Hi Ladies!!
I just wanted to say how much I love this product! I find it very refreshing and it really does the trick in cooling me down on the many occasions that I flash, Lol. [I'm like a light bulb for flashes, maybe not so much for the brightness, ha ha jk]
That's all, just a shout-out for this amazing product!! Thanks to whomever was in the kitchen the day this formula was created! Hugh KUDOS!! <3 CM
Hello Carmilla Thankyou for this review we always appreciate hearing from our customers, Kool Woman is certainly also getting well tested on our wonderful ladies here at Finesse during this heatwave
Hot Flash Cooling Mist
It did help almost instantly
---
We Also Recommend
---