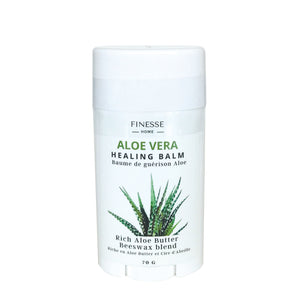 Aloe Healing Balm
---
An important addition to maintain healthy hands. Gives extra protection to hands when using alcohol based cleansers. Protects and moisturizes 
Made with pure aloe butter and aloe oils to give a boost of moisture to your body and relieve dry or cracked skin. 
Ingredients: Prunis dulcis, Cocos nucifera, Aloe Butter, Cera alba, Aloe barbadensis, Tocopherol, Vitamin E, Rosmarinus Extract.
---
---
Aloe Healing Balm
Often I get terribly itchy legs. I moisturize, I scratch, I bathe in Epsom Salts, and a day later.....itchy again. I asked the folk at Finesse's front office about it, and they recommended the Aloe Healing Balm stick. I used it immediately before I drove away from the store. My itching didn't go away instantaneously, but something was happening. Within 4 days, there was no more itchiness. My legs needed lots of moisturizing afterwards, but your product really helped me. it's very distressing when this happens, as you can imagine. Applied herbal medicine. Thank you very much.
Hello Deanne. Thank you for the lovely review! We also have an aloe moisture cream that would work perfect for keeping your legs soft and moisturized and stop the itchiness from coming back.
---
We Also Recommend
---